Dinner is served on ONE sheet pan with this simple and super tasty sweet and sour sheet pan meatballs recipe loaded with roasted potatoes and broccoli!
In the land of meals that are easy to make and taste amazing…but may not win you any gourmet food of the year awards…these sheet pan meatballs reign supreme. And I'm all about reigning supreme, especially if it saves my sanity from slaving over a fussy meal for hours (and spending even longer to clean up). 
I'll take my meatballs and sanity, thankyouverymuch, and leave the ritzy, glitzy dinners for someone else who deserves them.
Since my kids go insanely crazy for meatballs, this sheet pan recipe, inspired from one of our favorite meatballs recipes of all time, is a family favorite. The prep is simple, the cleanup is pretty darn fast, and I love that basically everything I need to serve for dinner is in one little place ready to be scooped up with a spatula, piled on a plate, and drizzled with a delectable homemade sweet and sour sauce.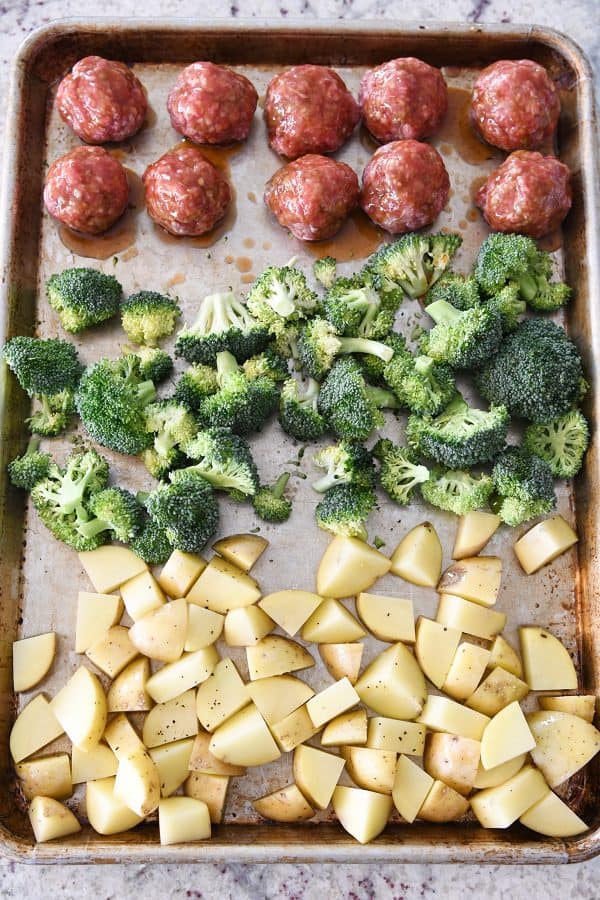 Here's a quick shoutout to a few other sheet pan dinner favorites:
Quick and Easy Sheet Pan Panini
Sheet Pan Unstuffed Chicken Cordon Bleu and Roasted Broccoli
Teriyaki Chicken and Veggie Sheet Pan Dinner
Sheet Pan Balsamic Chicken and Veggies
Have you made any of these? Sheet pan dinners are the best. The best.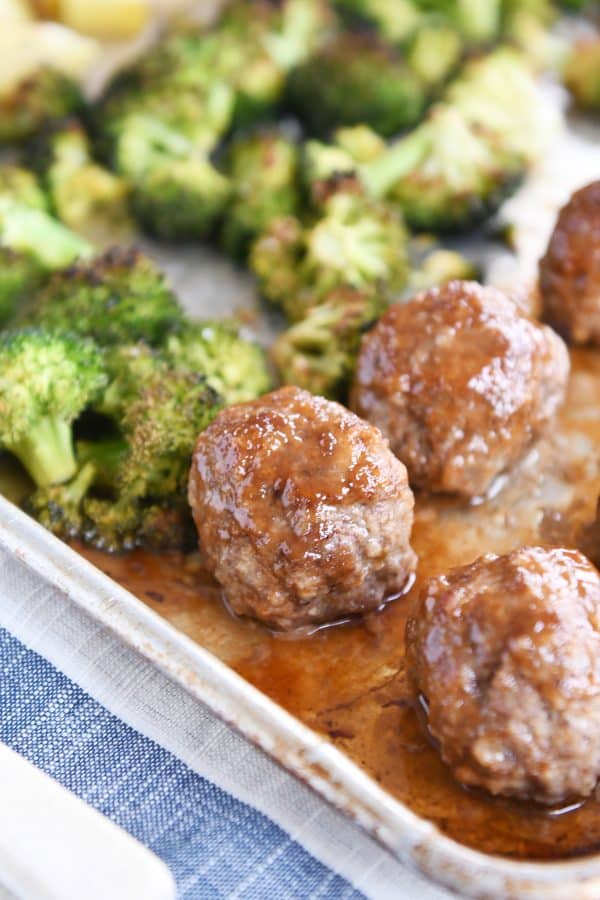 A few tips for sheet pan success
-For this sheet pan meatballs recipe, I use lean or extra lean ground beef or turkey so the baked meatballs aren't swimming in pools of grease at the end of the baking time. The liquid you see in the above picture is the sauce I brushed on the meatballs immediately out of the oven. It also helps to serve this meal almost right away out of the oven or at the very least remove the meatballs to a plate or serving tray if they won't be served right away. 
-The biggest trick for sheet pan dinners is getting all the varying ingredients to bake in the same amount of time. Cutting the potatoes to 1/4-inch pieces and keeping the meatballs around golf-ball size will help everything to finish cooking at about the same time. 
-This recipe, made on a single sheet pan, serves about 4-5. For my family of 7, I double the recipe. This makes my hollow legged teenage boys happy and gives us a serving or so of leftovers. I split the doubled meatballs/veggies onto two sheet pans and use my convection oven setting (same temp) to bake both sheet pans at the same time.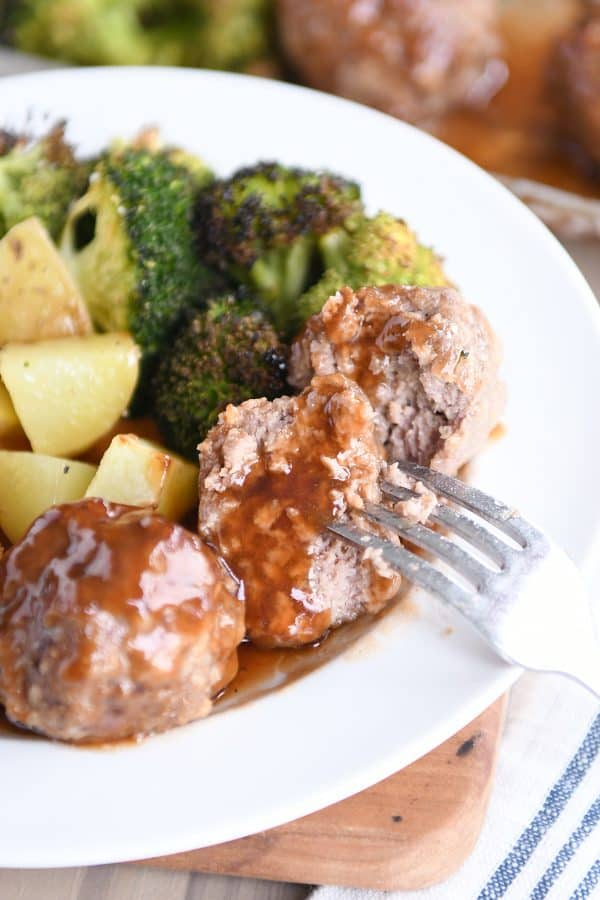 If your soul requires easy recipes for weeknight dinners to attain complete happiness, I think you'll like this one. Not a lot of fancy, but a whole lot of yumminess. 
You could maybe even try lining the sheet pan with parchment paper for a super easy cleanup situation, but I might be a little sad for you if the vegetables don't get some of that delicious golden brown roasting action on them. So choose wisely.  


*This really could be a complete meal in one without a lot of side dishes, but if you need a few suggestions, here you go!*
Honey Vanilla Yogurt Fruit Salad
Divine Breadsticks or Best-Ever Cornbread
One Year Ago: Thick and Chewy Chocolate Chip Cookie Bars
Two Years Ago: French Bread Rolls Step-by-Step
Three Years Ago: Pesto and Marinara Mozzarella Chicken Bake
Four Years Ago: Skillet Taco Pasta Shells 30-Minute Meal
Five Years Ago: Lemon Drop Sugar Cookie Bars
Ingredients
Sweet and Sour Sauce:
1/2 cup apple cider or unseasoned rice vinegar
1/2 cup BBQ sauce (my favorite homemade recipe here)
1/3 cup lightly packed brown sugar
2 teaspoons Worcestershire sauce
1 teaspoon dry mustard
Meatballs:
3/4 to 1 pound lean ground beef or ground turkey
1/4 cup breadcrumbs (I use panko)
2 tablespoons milk
1 tablespoon Worcestershire sauce
1 large egg
1 teaspoon salt (I use coarse, kosher salt)
1/2 teaspoon onion powder
1/2 teaspoon garlic powder
1/4 teaspoon black pepper (I use coarse black pepper)
Veggies:
3 to 4 medium potatoes, peeled and diced small (1/4 inch pieces)
2 to 3 cups broccoli florets
1 tablespoon olive oil
Salt and pepper to taste
Instructions
Preheat the oven to 400 degrees F. Place an oven rack in the middle or lower middle position.
For the sauce, whisk together all of the ingredients in a small saucepan. Remove about 1/3 cup of the sauce mixture and set aside in a small bowl (you'll use this to baste the meatballs). Simmer the remaining sauce for 5-10 minutes, stirring often (you can cook the sauce while the meatballs/veggies roast in the oven to maximize time).
For the meatballs, in a medium bowl, combine all the meatball ingredients and mix until evenly combined.
Place the potatoes in a single layer across the bottom 1/3 of a half sheet pan (a large rimmed baking sheet about 12X18-inches). Place the broccoli florets next to the potatoes in a single layer leaving the top 1/3 of the sheet pan for the meatballs. Drizzle the potatoes and broccoli with 1-2 tablespoons of olive oil and season with salt and pepper. Give the potatoes and broccoli a quick toss to coat with the oil and seasonings (keeping each vegetable in a single layer in their own section of the sheet pan after tossing).
Lightly grease the remaining open spot on the sheet pan with cooking spray. Portion the meat mixture into about 8 to 10 meatballs (about golf ball size) and place them in two even rows on the remaining 1/3 area of the sheet pan.
Brush the meatballs with the reserved sauce. Place the sheet pan in the oven and bake for 20-25 minutes until the meatballs are cooked through (165 degrees F on an instant-read thermometer) and the potatoes and broccoli are tender. You can flip the vegetables halfway through cooking, but I never bother. Right out of the oven, brush the meatballs with some of the simmered sauce.
Serve the meatballs and veggies with the remaining sweet and sour sauce.
Notes
I double this recipe for our family of 7 (gives us maybe one serving of leftovers). I split the ingredients up onto two sheet pans and cook both pans at the same time on convection setting in my oven (same temp as in the recipe). For a doubled recipe, I only 1 1/2 the sauce part.
You want the vegetables in a single layer, so if your potatoes are gigantic, you may only want to use two instead of the 3-4 medium-sized potatoes called for in the recipe. Just eyeball it so that the potatoes and broccoli don't overcrowd the sheet pan.
Recommended Products
As an Amazon Associate and member of other affiliate programs, I earn from qualifying purchases.
Follow @melskitchencafe on Instagram and show me the recipes you are making from my blog using the hashtag #melskitchencafe. I love seeing all the goodness you are whipping up in your kitchens!
Recipe Source: from Mel's Kitchen Cafe (meatballs and sauce adapted from this archived Sweet and Sour Meatballs recipe)
Posted on April 8, 2019 by Mel
Source: https://www.melskitchencafe.com/sheet-pan-sweet-and-sour-meatballs/