This easy Buddha bowl recipe with creamy peanut sauce is, whoa, SO good! Plus it's one of those fabulous recipes that is super customizable to your taste buds and/or what you have on hand!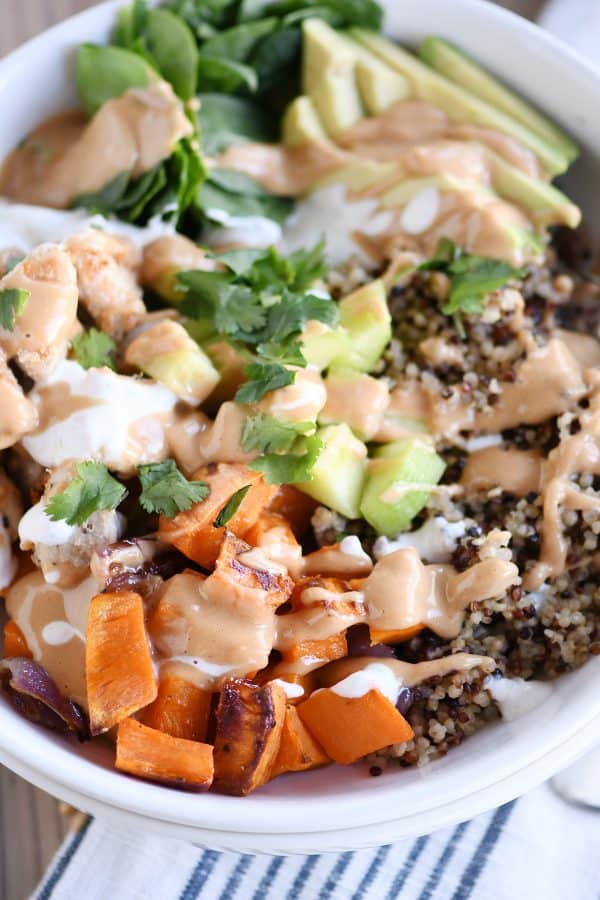 Have you gotten on the Buddha bowl train yet? They are certainly nothing new (began trending years ago), and the name origin is a little muddy with lots of strong opinions about what a Buddha bowl is and isn't. 
But to me, it's simple: fill up a bowl with flavorful, good-for-you ingredients, smother with a tasty sauce (or two), and dig in. We have variations of Buddha bowls quite frequently for dinner because it's a fantastic way for my kids to customize their own dinner adventure. 
Spoiler alert: to avoid the anti-vegetablers in my crowd just spooning peanut sauce over chicken and calling it good, our rule is you have to choose at least four of the available options and that seems to make everyone *mostly* happy. With enough of that delectable creamy peanut sauce poured on, they've learned even spinach is palatable.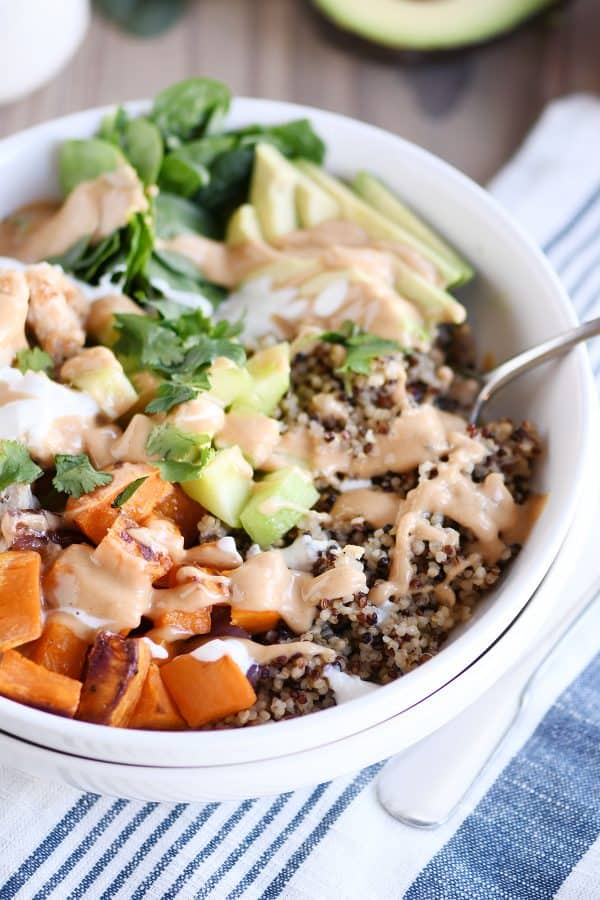 Because there are endless variations of these types of Buddha bowl recipes out there, it's taken me a while to get a real, live recipe written up. I would say this Buddha bowl recipe with peanut sauce is always our go-to starting place.
But there are so, so many ways you could change this up:
Use brown rice or other grain instead of quinoa
Add or take away from the vegetables and roast your own assortment (broccoli, squash, Brussels sprouts, cauliflower, etc) – let me just say, though, there is something about the roasted sweet potato + red onion combo that is magical 
Make it easily meatless by leaving out the chicken
OR, instead of cooking the chicken in the skillet, grill the chicken (yum!) or use leftover chicken from another meal or a rotisserie chicken – additionally, you could change up the meat protein and use shrimp, fish, pork or beef
Add a million different fresh garnishes (chopped fresh herbs, tomatoes, other types of greens, chopped peanuts, sesame seeds, etc)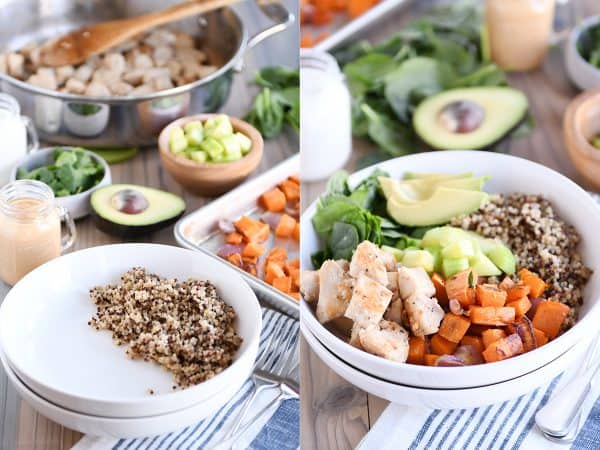 Crunch factor. It's super important to me to have some crunch action in a good Buddha bowl. Why? Because a little crunch makes the world go round. Fresh cucumbers are my choice, but you could sub in any other fresh veggie you love.
Let's talk sauce. It is peanut sauce all the way for me and my Buddha bowl. The peanut sauce version in this recipe is creamy with a pop of sesame flavor and a fresh zing from the lime juice. In other words, it's drinkably good. 
However, because I make this easy 5-minute Thai peanut sauce recipe all the time and usually have it in the fridge, we often sub it for our Buddha bowl drizzle. And sometimes we go crazy and add two different sauces. I know. Livin' life on the edge over here.
This yum sauce and/or this cilantro lime dressing are worthy companions to the creamy peanut sauce (and both of these are usually on hand in the refrigerator, too). Seriously, my mouth is watering just thinking about the yumminess all those sauces add to the heaping goodness of a Buddha bowl.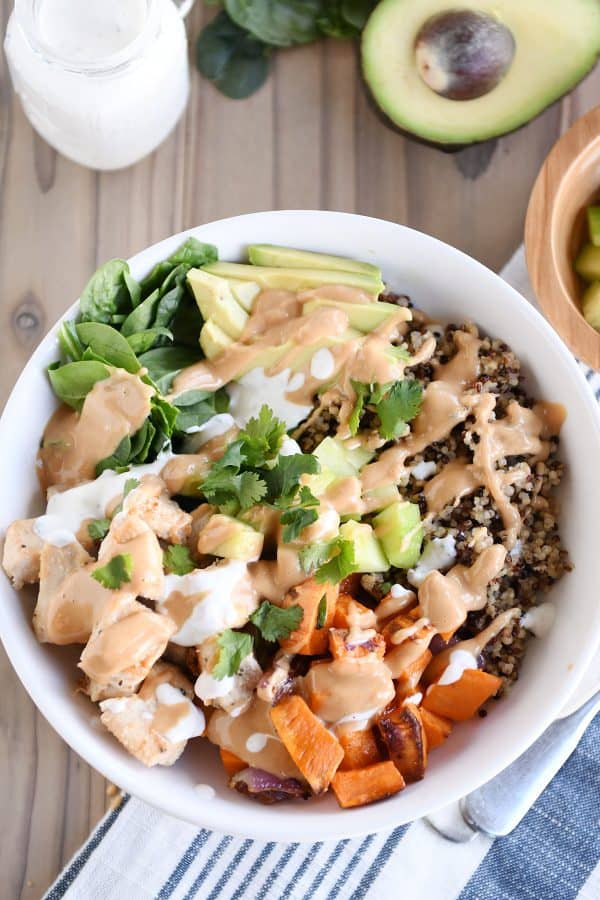 Don't let the prep of this recipe scare you off. Almost everything can be made ahead of time (especially the roasted vegetables, quinoa and sauces), which actually makes this a super yummy and quick lunch option to throw together. 
We headed out on a little road trip this last weekend, and I had a little dish (ok, big dish) of this Buddha bowl goodness to ride along with me (full disclosure: totally packed PB&J for everyone else). 
I can't wait to see how you change up this recipe to make it your own! You guys always amaze me with your creativity (even when it doesn't quite work out, haha!). 
Sidenote: the shallow bowl-plate dishes in the pictures are these Sweese bowls aff. link I bought last year. We use them constantly for salad and stand alone pasta meals…and also for ice cream and brownies.
One Year Ago: Mississippi Mud Bars
Two Years Ago: The Best Blackberry Crisp Can Use Other Berries, Too!
Three Years Ago: Divine Tres Leches Cupcakes
Four Years Ago: Sweet and Spicy Pork and Pineapple Tacos
Five Years Ago: Whole Wheat Coconut Oil Chocolate Chip Oatmeal Cookies
Yield: 4-6 servings
Prep Time: 30 minutes
Cook Time: 30 minutes
Total Time: 1 hour
Ingredients
1 1/2 cups quinoa (see note)
Chicken broth or water
2 large sweet potatoes, peeled and diced
1 red onion, peeled and diced
1 to 2 tablespoons oil
Salt and black pepper (I use coarse for both)
2 to 3 cloves garlic, finely minced
1 tablespoon finely minced fresh ginger or ginger paste (see note)
1 pound boneless, skinless chicken breasts, cut into bite-size pieces
1 seedless/English cucumber, peeled and diced
2 to 3 cups baby spinach
Diced avocado
Chopped, fresh cilantro
Peanut Sauce:
1/3 cup fresh lime juice
1/4 cup creamy peanut butter or tahini
2 tablespoons soy sauce
1 tablespoon sesame oil or toasted sesame oil
1 to 2 teaspoons honey
1 teaspoon chili-garlic sauce (optional, but adds great flavor and a little kick)
1 clove garlic, finely minced
Instructions
Cook the quinoa according to package directions, substituting chicken broth for water. (Here is how I cook quinoa in the Instant Pot)
While the quinoa cooks, preheat the oven to 425 degrees F. Toss the sweet potatoes and onion on a large sheet pan with a tablespoon of oil and a sprinkle of salt and pepper. Roast in the oven until tender, 20 minutes or so, flipping once or twice.
Heat a nonstick skillet over medium heat with 1 tablespoon oil. Add the garlic and ginger and cook, stirring constantly, for about 30 seconds until sizzling (don't let the garlic burn). Pat the chicken pieces dry and add them to the skillet, seasoning with salt and pepper. Cook the chicken, stirring occasionally, until cooked through 5-6 minutes. Remove the skillet from the heat.
For the dressing, whisk or blend all the ingredients together until smooth (this can be done several days in advance; refrigerate the dressing).
Add a scoop of cooked quinoa to serving bowls. Add roasted sweet potatoes, onions, chicken, handful of spinach, diced avocado, chopped cucumbers, and a sprinkle of cilantro. Drizzle dressing over the top and dig in.
Notes
This recipe works really well to use already cooked, leftover quinoa and same with leftover chicken (grilled, rotisserie, etc). If using already cooked chicken, you can add the ginger/garlic to the sweet potato/onion mixture or even to the sauce to get that gingery kick.
My life has been transformed by ginger paste. I use it almost every time fresh ginger is called for in a recipe and it's amazing (no chopping knobby fresh ginger!). It's very easily and widely found in grocery store produce sections near the fresh herbs/salads. However, keeping fresh ginger on hand is easy...cut fresh ginger into 1-inch pieces and store in the freezer. When ready to use, it can be grated on a box grater straight from the freezer (no need to peel!).
This yum sauce is also fantastic on these bowls (as is this cilantro lime dressing).
Recommended Products
As an Amazon Associate and member of other affiliate programs, I earn from qualifying purchases.
Recipe Source: adapted from this recipe at Allrecipes
Disclaimer: I am a participant in the Amazon Services LLC Associates Program, an affiliate advertising program designed to provide a means for me to earn fees by linking to Amazon.com and affiliated sites.
Posted on April 29, 2019 by Mel


Source: https://www.melskitchencafe.com/buddha-bowls-with-peanut-sauce/